Jim Rogers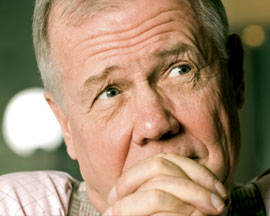 Jim Rogers-Driving into wealth
Best Quote: When you see several major companies losing money and capital expenditure coming to a stop, then look for an Industry recovery!
Known as the "poor boy from Alabama " Jim Rogers is known more for his post retirement activities then for what he did at work. During his working tenure he never took a vacation for a continuous stretch of 10 years, He believed that history and philosophy taught you more about the markets. This he thought was better then going to business schools.. In 1970 he co-founded the Quantum fund with George Soros. At that time there were just two of them Soros the trader, Rogers the research analyst and a secretary. During their partnership tenure of 31 st December 1969 to 31 st December 1980 this fund chalked up a total return of 3365% Starting out in his twenties with an initial capital of $600 Rogers retired at age 37 with more money than anyone could possibly spend. His book, Adventure Capitalist - The Ultimate Investor's Road Trip, is the story of his drive through 116 countries over a three-year span from 2000-2003. A few of his conclusions: Thumbs down on investing in Russia and India , regardless of natural resources or technology skills. Thumbs up on China, Uruguay, Mongolia and… Tanzania ?
---
Key learning:
What to look for before buying into a country?

The macro picture should be improving Rogers looked at the current account, fiscal deficit, exchange rate controls and restrictions etc. .
The macro picture should be improving Rogers looked at the current account, fiscal deficit, exchange rate controls and restrictions etc.
The currency should be convertible and the trades should provide easy liquidity so as toenable a large trader to awitch positions with ease.
He used to rely more on travel and get first hand information rather then rely on Wall Street research reports of different countries.
He used to say that the currency black market dealers gave you more information then the Central Bankers report on their repective countries.
What to look for before buying into a Company?

Institutional under ownership. Rogers considers the best short candidates are stocks where Institutions own more then 3 quarter of the shares.
Never try and make money from insider information not because it is unethical but because it is almost impossible to do so on a consistent basis.
Buy stocks of companies that are so under valued that even if nothing positive happens the maximum you can lose is on the opportunity cost of capital – Keeping the capital safe is of paramount importance.
Being more of a top down player Jim was more interested in the macro set up of things rather then worry about quarter on quarter fluctuations
The micro numbers that he loved working on were:

Capital Expenditure as a percent of depreciation, gross plant and net plant – The ratio is highest when the company is at the top of a cycle and vice versa. Compare this with a cash flow analysis. At times of high capital expenditure plans the free cash flow diminishes and equity valuations take a hit.
Look at ratio of sales to receivables, debt to equity. A very high profit margin with lower inventories and increasing capital expenditure is another indication to go short on a company.
Growth stocks are classic cases of shorting opportunities.
Rogers considers commodity to be the next big thing and he has been proved extraordinarily correct in his forecasts till now. He is bullish on:
Crude Oil: Economic development in China and India will create a demand for manufacturing activities - this would in turn increase the demand for newer cars, trucks, and consequently crude. Rogers opines that the per capita consumption of crude in these two countries is just 5% of that of the U.S. Rogers expects crude to sail well above $100 at the end of the decade
Sugar & Coffee : The majority of population in India and China would experience rising incomes with economic growth. This would increase the demand for sugar and tea.
The growth of cars in the newer economies would create a huge demand for lead as it is used directly in the production of batteries.
Other commodities where Jim is bullish on are Tin, Zinc Corn and Soya bean.