Rakesh Jhunjhunwala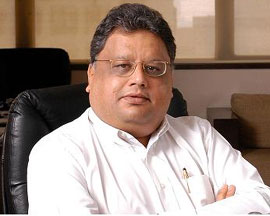 Courtesy: Wikepedia
Rakesh Jhunjhunwala grew up in Mumbai, India where his father was posted as an income tax officer. He graduated from Sydenham College and thereafter enrolled at the Institute of Chartered Accountants of India where he qualified as a Chartered Accountant
Rakesh Jhunjhunwala plunged into full-time investing soon after completing his education. He started his career in 1985 when the BSE Sensex was at 150. He made his first big profit of Rs 0.5 million in 1986 when he sold 5,000 shares of Tata Tea at a price of Rs 143 which he had purchased for Rs 43 a share just 3 months prior. Between 1986 and 1989 he earned Rs 20-25 lakhs. His first major successful bet was iron mining company Sesa Goa. He bought 4 lakh shares of Sesa Goa in forward trading, worth Rs 1 crore and sold about 2-2.5 lakh shares at Rs 60-65 and another 1 lakh at Rs 150-175. The price rose to Rs 2200 and he sold some shares.
---
He credits Madhu Dandavate's Union budget of 1990 as the inflection point for his investing career which quintupled his net worth. Jhunjhunwala said, "Radha Kishan Damani is my guru".
Jhunjhunwala's portfolio of stocks is tracked religiously. His latest stock portfolio is the subject of many debates and analysis. Like Warren Buffett, he is a long term investor, however he acknowledges that 'trading' income helped him build his capital base and remains.
Jhunjhunwala is the Chairman of Aptech Limited and Hungama Digital Media Entertainment Pvt. Ltd. and sits on the Board of Directors of various Indian companies such as Prime Focus Limited, Geojit BNP Paribas Financial Services Limited, Bilcare Limited, Praj Industries Limited, Provogue India Limited, Concord Biotech Limited, Innovasynth Technologies (I)
Limited, Mid Day Multimedia Limited, Nagarjuna Construction Company Limited, Viceroy Hotels Limited and Tops Security Limited. As of late 2012 his portfolio included A2Z Maintenance, Titan Industries - 7.5% stake, CRISIL -7.85% stake, [Geometric] - 19.14% stake, [Lupin Ltd.] - 1.87% stake and Karur Vysya Bank.
Jhunjhunwala's stocks fell by up to 30% in December 2011.[4] He recovered his losses in February 2012.[5] These ups and downs forced Rakesh to reduce his vulnerability by trimming his portfolio to one-third.[6] His attempts to divest his Aptech stake had no takers.[7] In May 2012 he increased his stake in Aptech by 2.24% now holds 12.7%
Jhunjhunwala invested $ 4.6 Million (INR 26 crore) in A2Z Maintenance[8] increasing his stake in the company by 3.57%, taking his stake in the company to 23.2 per cent.[9] He resigned from directorship of w.e.f. on October 15, 2012.[10]
Investment Philosophy
His stock picking strategy is influenced by George Soros' trading strategies and Marc Faber's analysis of economic history. He endorses the rule, "the trend is your friend."
His investment philosophy says "Buy right and hold tight".
He admits to having been a bear in the Harshad Mehta days and believes that investors should be like chameleons. He has said that the markets are temples of capitalism and believes that they are the ultimate arbiters.[13]
He claims to base his trades, in part, on the business model of a company, its growth potential, and its potential for longevity. He factors in heavily the competitive ability, scalability and management quality of the enterprise. The entrepreneur, according to Jhunjhunwala, makes an invaluable difference to his expected investment returns. According to Jhunjhunwala, believing in the vision and the beliefs of the entrepreneur and evaluating risks that may not be perceived by the entrepreneur are key success factors for a trader.